Instead of the tour
Bridges of Königsberg 'The Celebrity Veto' available now
Still hanging in there, and hoping you are too.
The Celebrity Veto
In the past few years, late May / early June has been the time for Bridges of Königsberg to hit the road. Touring builds camaraderie, and creates space for us to explore our friendship - especially through musical performance, but also via shared experience (and across all of those driving miles). It pushes us to accelerate the evolution of our collective sound and aesthetic, to tighten our playing and communication but also to find new ways to challenge one another creatively. And it's just plain fun.
We had big plans for June 2020. And… nope.
So here's hoping that we can get back to live music-making before too long. In the meantime, we decided to go all-in on a new creative project - making a album together via Internet file-trading. Up until now we've always made our albums by recording together in a room - capturing our live sound as-is, with just a bit of editing and mixing after the fact. (Indeed, most of our albums have been recorded during a free afternoon while on those late-spring/early-summer tours).
The Celebrity Veto is something else entirely - "studio trickery" from top to bottom, with advance planning, reconsiderations, editing, overdubbing, and remixing at every turn. We've created working methods (dubbed "library," "stack," and "zine") inspired by surrealist "exquisite corpse" games and Oulipan constraints, maneuvered one another into tight corners, and even taken turns impersonating our bandmates' signature sounds and gestures. (As the engineer of the final mixes, I experienced some delightful moments of confusion as to who was responsible for what).
To my ear, the results are still recognizably Bridges of Königsberg, but we roam much farther afield than usual. There's a curiosity, a looseness, a spaciousness, an exploratory quality to this music that I'm really excited about, and that I can't wait to feed back into our live performances. (Someday).
So: please check out The Celebrity Veto. And if you're inclined to purchase, today is another "Bandcamp Day" - the site is waiving its usual 15% cut for July 3. In turn, BoK will apply all our proceeds from the record to direct support of Milwaukee protests against police brutality and systemic racism.
At the workbench
Still working away at the software instrument that I've written about in, yep, every previous edition of this newsletter. But the music / audio side of the instrument is now complete - the main work of the past month has been to use it extensively in making my contributions to The Celebrity Veto. That may not qualify as a formal validation process, but it has been a heckuva good test - if I can get a rich enough set of sounds and gestures to keep up with my bandmates, and find those sonorities on the fly, then I should be in fairly good shape for solo improvisation as well.
The process has inspired some tweaks to the user interface. I've traded away some detailed mixing capability in favor of more fine-grained control over rhythm and silence. I've simplified the stereo panning behavior of the instrument - the original version was interesting, but required near-continuous attention that I would rather devote to other aspects of the music in-flight.
I also made my way down one very deep rabbit hole - developing a variety of different ways to synthesize clicks and other percussive transients from scratch (no samples). That soundworld proved incredibly fun to develop and play with, and you'll hear it all over The Celebrity Veto.
Lots left to do with animation and text for this project - more to work on for the remainder of the summer, and more to write about in future newsletters!
Nonce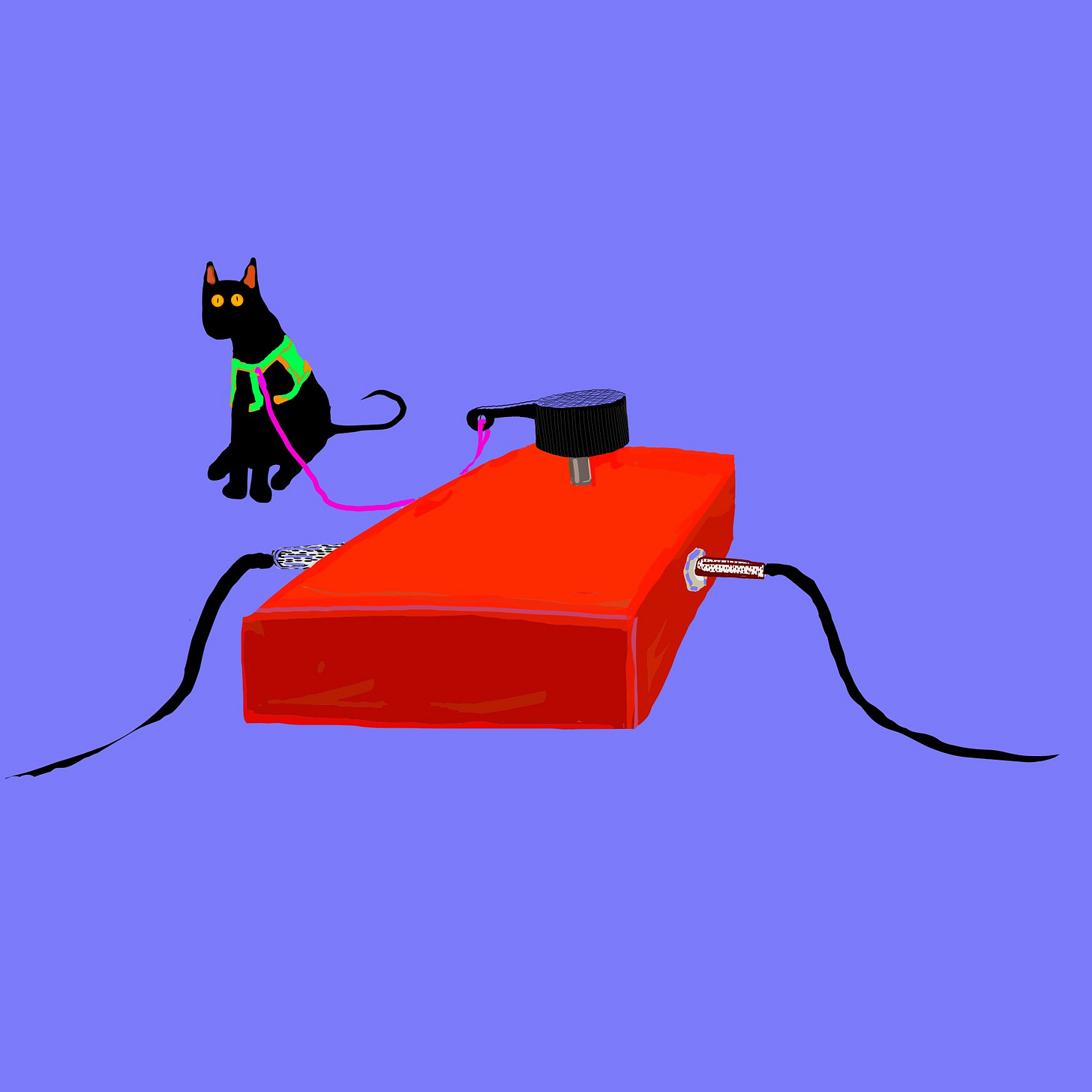 I haven't implemented Feline-Driven Stochastic Distortion Modeling in my software yet, but as usual John Granzow is way ahead of me.
Thanks for reading (and listening), stay safe, and keep working for a better society - I promise to do likewise.
Yours,
Christopher
Christopher Burns
http://sfsound.org/~cburns